Pink
[26]
[Textile by WACO Paints]
Bargain sale. Water-based paint for light Textile. 50 ml (1.68 fl.oz.)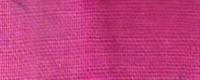 Textile paint for cotton, linen, poplin, jeans etc.
Stir well.
Wash textile before painting.
After painting, leave to dry for 24 hours before turning textile inside out and iron-setting for 5 min.
This water-soluble paint will not fade and is boil-resistant.
Protect from frost.
DESCRIPTION:
Whether used on clothes or table linen, for decoration and ornamentation - a hand-painted article immediately becomes something special and unique.
Textile by WACO has been developed especially for painting and printing fabrics.
The product range includes paints for both light and dark fabrics made from natural and blended fibres.
These paints are water-soluble, can be mixed with each other and will not fade.
Thextil by WACO for light-colored fabrics can be washed at the boil after being iron-set.
Always wash and iron the article before working on it.
METHOD:
1. Transfer motif to textile using tracing paper.
2. Paint on appropriate areas with Textil by WACO and leave to dry for a few hours.
3. Paint over outlines with a fine hair brush.
4. Leave to dry for approx.24 hours then iron on the rear side for about 5 minutes to set the motif.
50 ml / 130 g WACO
Textile by WACO Paints