Glitter-Light Gold
[92277]
[Javana Textile Glitter paints]
Water-based color for dark and light textile with glitter effect, 50 ml (1.69 fl.oz)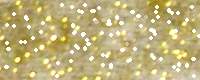 Javana Textil Glitter
Fabric Paint with glitter effect.
Ready to use.
Water-based.
For light and dark cotton, textiles and mixed fabrics having up to 20% synthetic fibre part.
Wash out finishing and fabric softener before use.
Apply paint lusciously.
Drying time approx.6 hours.
Fixing:
In preheated oven 150°C (302°F) 8 minutes,
OR by intensive ironing from the reverse side - 5 minutes on cotton sertting.
Check heat resistance of the fabric before.
Washable in a laundry bag or in the reverse side up to 40°C (104°F).
Iron on the reverse side.
Stir well before use !
Protect from frost and heat !
Clean brushes with water.
Further information on www.c-kreul.com
C.Kreul, Germany
50 ml / 150 g C.Kreul
Javana Textile Glitter paints